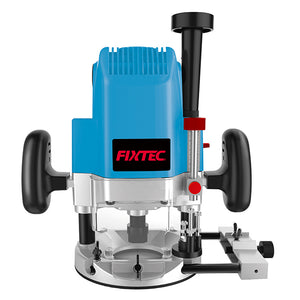 1800W Woodworking Router Electric Router
Regular price
RM433.00 MYR
Sale price
RM389.00 MYR
---
Product Description
FIXTEC Wood Tool 1800W Electric Woodworking Router FIXTEC Wood Tool 1800W Electric Woodworking Router
FIXTEC 1800W Electric Router
The FIXTEC 1800W Electric Router delivers powerful precision with smooth plunge action and superior performance. The FRT18001 Electric Router features 1800W power, ease-of-use features, and an increased plunge capacity for a wide range of applications including fine woodworking, cabinetry, windows, doors, and more.
It is 1800W Power and 6000-22,000 RPM for Smooth Routing. It has a 0 – 50mm plunge depth capacity for easy penetration into the work piece, with linear ball bearings for smooth plunge action. The FRT18002 Electric Router is engineered with oversized ball bearing construction, as well as a built-in fan with labyrinth construction to minimize dust from entering the tool for longer tool life.
Ease-of-Use Features
The FRT18002 Electric Router has ergonomic rubberized handles with a built-in two-finger switch for added control, with a lock-on trigger for continuous operation. The quick release plunge depth adjustment with micro control and three preset depth stops are engineered for added precision, and the plunge lock lever is conveniently located for efficient operation. The FRT18002 is equipped with a shaft lock for quick and easy bit changes. Additional ease-of-use features include easy-to-read depth scales, a chip deflector engineered to direct chips away from the operator.
Engineered for Finish Woodworking
The FRT18002 Electric Router uses 6mm, 10mm and 12mm shank router bits, and is engineered for fine woodworking, cabinetry, furniture making, counter tops, decking, windows and doors, and general carpentry. It is ideal for professional woodworkers, furniture makers, professional craftsmen, cabinet makers, deck builders, boat builders, and general contractors seeking a best in this class router.
1. 1pc parallel guide
2. 1pc template guide
3. 1pc centering pin
4. 1 pc carbon extration adapter
5. 1pc spanner
6. 1 instruction manual
FIXTEC Wood Tool 1800W Electric Woodworking Router FIXTEC Wood Tool 1800W Electric Woodworking Router
| | |
| --- | --- |
| Model Number | FRT18002 |
| Voltage | 220-240V ~ 50-60Hz |
| Rated power | 1800W |
| No load speed | 23000rpm |
| Speed preselection |   |
| Constant electronic control |   |
| Warranty |  1 year |
| Tool holder | 6-12mm |
| Plunge depth | 50mm |
| Weight | 3.7Kg |
| Protection class | II |